€6.3 Million Jackpot won at River Belle Online Casino proves to be one of the biggest online jackpots won!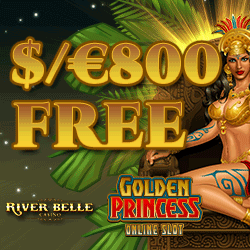 Saturday, May 9, 2009 was just the start of another ordinary weekend for Georgios M. Little did he know that on this day a little luck would change his life forever!
He had been playing and winning smaller amounts at Belle Rock Entertainment's River Belle Online Casino for just about a year when lady luck cast her spell on him. All it took was a €5 bet on Mega Moolah Progressive Jackpot to seal his fate of becoming the winner of the largest online jackpot payout in the history of online gaming!
The lucky husband and father from Greece could not believe his eyes when he saw the winning total displayed on his screen. He had just won a staggering €6,374,599.92! When sharing the news with his wife, she was concerned that it might not be true but he assured her it was.
His advice to other players? "Do not lose hope because small moments can change your life. I will continue to play at this casino. It has definitely changed my life!" When asked what he was planning to do with his winnings, River Belle's latest multi-millionaire said that he would take his family on a holiday and invest some money in his business.


Belle Rock Entertainment's Chairman Tim Johnson had this to say about Georgios M's amazing win, "We at Belle Rock Entertainment take the utmost pleasure in seeing our players win life changing jackpots. It is an amazing accomplishment that for a single bet of €5 a valued long time River Belle player walked away with one of the largest online jackpots ever won. Well done and enjoy your winnings Georgios."
If anything, this gigantic jackpot payout proves that anybody can become an overnight millionaire. All you have to do is make sure you're in it and you could be the next to win it!
If you want to have a shot at being the next Riverbelle Jackpot Winner - then Click Here to go to Riverbelle Casino